Description
22 Years China Factory Chemical-Resistant Heavy Duty Work Bench Pad Mat Custom Rubber Tool Utility Mat For Workbench Top
The anti-static workbench mat is mainly used to prevent electronic circuit boards and other electronic products from being damaged by static electricity.
In the electronic assembly and manufacturing process, static control is essential.
The anti-static workbench mat is made of pure antistatic PVC material with ESD performance. It is lightweight and has thermal insulation properties to protect the workbench.
Haonest ESD anti-static mat is designed to provide an electrostatically safe working surface to protect electrostatic-sensitive equipment.
A larger working surface, independent sub-grid for screws or small parts, can keep the table tidy, you will find it is a necessary tool pad for assembling electronic products, which provides convenience for your work.
Make your workbench look professional.

A non-slip project mat that protects and keeps your work area clean.

Chemical resistant and keeps liquid spills from spreading throughout the workspace.

Material: PVC rubber
Good design 
Make your workbench professional and work more organized
Protect and keep your workbench clean
Hold liquid or chemical, keep your workspace well parts to keep your project organized and to prevent the loss of small items.
Size: accept customized size ,55*40cm
Logo and colors: Injected from mold, can use over 5 years with color well
MOQ: 100pcs to get a much better price.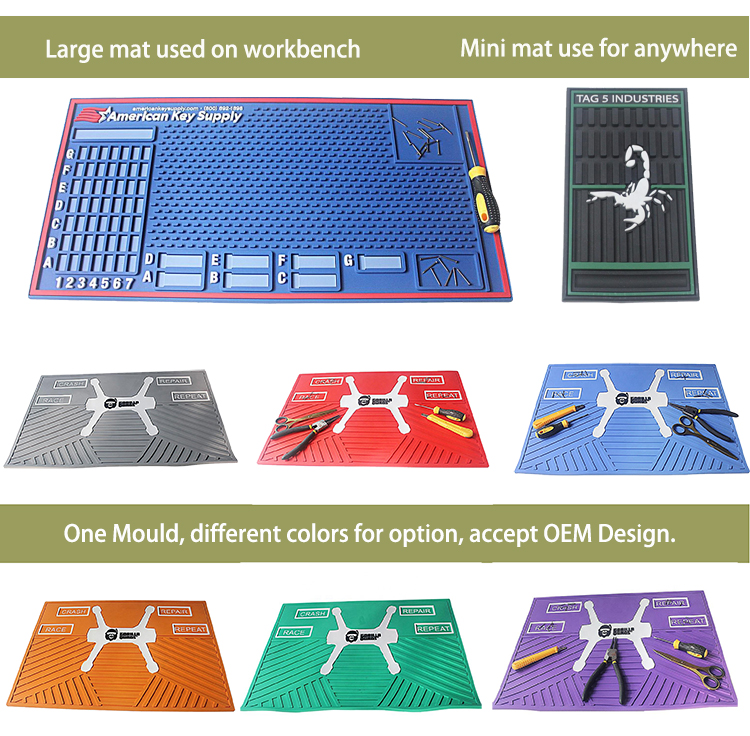 For more information please feel free to email: sales@haonest.com
Keywords: bench mat, tool mat, work mat, utility mat, workbench mat, pit mat, maintenance mat, work pad, benchtop mat, pinning mat, repair mat, workmat, rubber utility mat, silicone workbench mat, rubber work mat, rubber workbench mat, workbench utility mat, work table mat, rubber tool mat, anti static work mat, work floor mat, rubber bench mat, tool box rubber mat, utility door mat, workplace mat, workbench pad, work matts, utility carpets, workshop mat, mechanics mat, workshop floor mats, mechanic work mat, rubber workshop mats, benchtop overhaul mat, work bench pads, work surface mat, silicone bench mat, personalised work mats, utility floor mat, esd work mat, workbench protector mat, garage work mat, benchtop work mat, esd bench mat, custom work mats, garage workbench mat, heavy rubber utility mat, work surface protection mat, workbench floor mat, non slip tool mat, anti static bench mat, workbench top mat, workbench matt, outdoor utility mat, work station mat, workplace floor mats, workbench protective mat, non slip work bench mat
[contact-form-7 id="9″ title="Request Here"]